BADBOYS AUSTRALIA
Date/Time
Date(s) - 06/07/2018
7:00 pm - 11:30 pm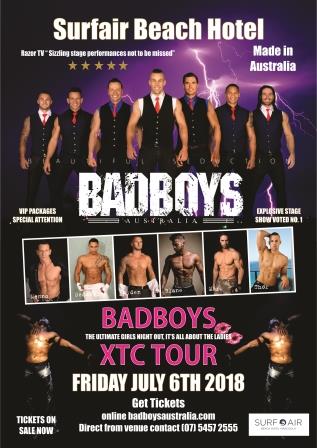 The Badboys just got even bigger…introducing BADBOYS XTC
The all-exclusive girls night out, brought to you by Badboys Australia
Look no further than Badboys Australia for your next special occasion, with their latest production BADBOYS XTC. Their new show takes you on a journey where every emotion explodes into a night of excitement, titillation and exploration of the male form. The Badboys specialize in fulfilling every girls fantasy and desire with style, ensuring every moment is everlasting. A night with the Badboys is a night to never be forgotten.
Attending male strip shows has become the new fad and Badboys Australia is undeniably one of Australia's most successful and famous Male revues. Having travelled extensively through the US, Canada, Asia, and of course Australia, Badboys have become more than just a household name in the ladies entertainment industry.
For all the girls celebrating a Bachelorette Party, Hens Party, Birthday Party or just a Girls Night Out, then Badboys Australia's promises to be an incredible night of sexiness, giggles, and crowd interaction, with a focus on high-energy, sophisticated entertainment.
It's an interactive show that is specifically designed to make every lady feel special and indulge their senses.